Your revenue is your revenue, that's why Future Ticketing pays out after three working days, unlike our competitors who defer payment until after the event. We understand that the wheels of business need to be continuously oiled with revenue to keep them turning, and we stand with business owners. Our platform is designed to give you a comprehensive view of your finances.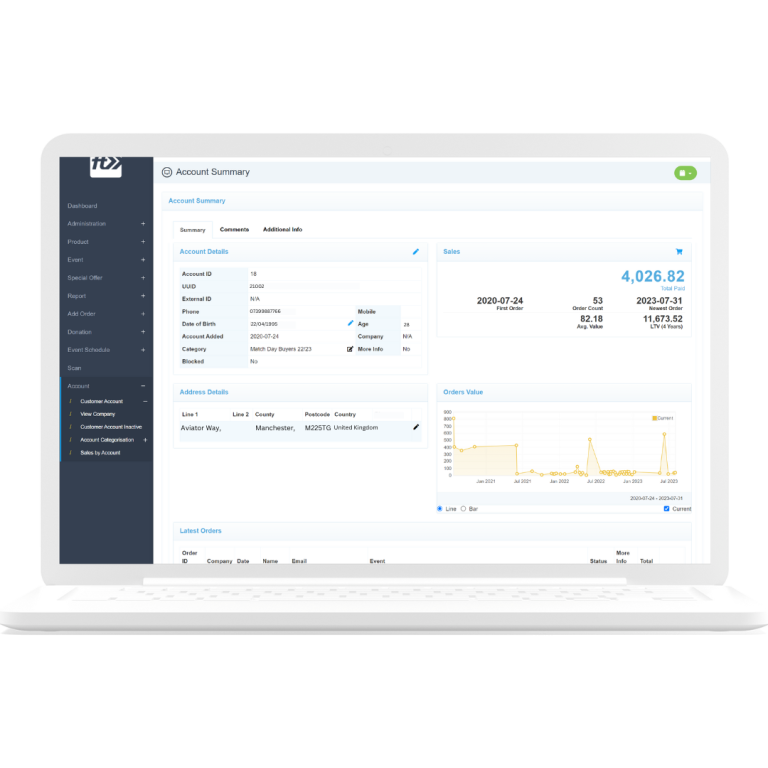 The Future Ticketing financial reporting suite allows you to
reconcile in numerous ways across multiple sales types including:
By payment type
By fees (postage, booking etc)
By payment method
Advance payments
Partial payments
Failed payments
Incorrect card details
Transaction activity
Refund reports
Subscription payment flows
We understand your financial teams may have their own way of reconciling payments. We have got you covered. Run your reports by ticket type, by event or by month-end.
Integrate your payment processor into our system or choose from the numerous payment processors we partner with. You can then cancel and refund tickets allowing clean reconciliation of your events using our report suite.
In addition to finance we have a full suite of reports to guide you with planning and marketing. Check out some of the reporting fields by:
Total sales
Recent orders
Date (date-range, event, time-slot, payment type etc)
Event
Product (merchandise, hospitality, parking etc)
User
Customer
Ticket type
Promotion or voucher types
Cancelled or non-redeemed order
Donation
Scanner
Seating plan (area and/or customer)
Book a demo
FT Payments Terminal
Clover Integration
Reconcile payments
Reporting
FT Payments Terminal
Progress Card payments live within your Future Ticketing dashboard using FT Payment Terminals. 
The wifi powered device links directly to your Future Ticketing dashboard reducing administration for your ticket office but also enabling customers to pay by card, Apple Pay or Google Pay. 
Clover Integration
Reconcile payments
Reporting